services
Tree Removal
There are many reasons trees need to be removed from our environment:
their root systems can create structural problems for our houses and footpaths
some grow larger than we expected when it was planted many years before
lightning strikes can make trees unstable and dangerous
the harsh winters and summers and high winds can affect the integrity of the tree, causing large branches to fall.
trees can become diseased and unstable.
Kennedys Tree Services will send out a Senior Estimator to assess your tree, suggest a "plan of action" and give a reasonable quotation, all at no cost to you.
Mulching
Mulch can be used in gardens around the office, around your home and on road verges, helping to suppress weeds and improve retention of water in your soil by reducing the evaporation rate. The natural biodegradation of your mulch will add vital organic matter to your soil improving the nutrient levels and soil structure. If you wish to keep your mulch onsite, please do not hesitate to discuss this with our friendly Estimator.
10cum mulch delivered $225
15cum mulch delivered $290
Tree Pruning / Trimming / Deadwooding
A tree may need pruning for a variety of reasons:
to cut back/remove branches for Powerline Clearance
to thin the crown to permit new growth and better air circulation
to reduce the height of a tree
to remove obstructing lower branches
to shape a tree for design purposes
Our qualified Arborists are here to assist you in making a decision to best suit the health of your trees.
Stump Grinding
Our state of the art machinery for stump grinding makes removing your stumps relatively easy. Stumps are ground and your grindings can be left to be put on your garden or removed from site. When our estimator attends your property for your free quotation, he will assess the access available for machinery, the area surrounding the stumps to be ground out and all other safety aspects with regard to underground services etc.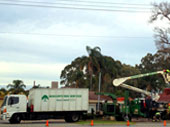 Powerline Clearance